Spring 2014 Newsletter
May 23, 2014
---

For 69 years Stewards Foundation's purpose has been to serve New Testament pattern assemblies across the United States.  To continue in such a purpose requires men of godly character seeking the Lord's will as they provide direction for the Foundation.  Each director volunteers his time in support of Stewards Foundation's mission.  No one Trustee is more important than the others, but the office of Secretary might be considered that of the unsung hero.  The Board Secretary's work is challenging and his contribution significant as he is charged with producing the permanent record of Board decisions.  Our current Secretary, Tom Harrington, has been in office since 2010.  I trust that his biography will be an encouragement to pray for all the Board members.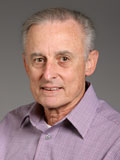 Thomas C. Harrington, PhD, Secretary
Tom has been a Trustee of Stewards Foundation since September 2009, a staff member responsible for public relations and planned giving from July 2008 until June 2009, and a trustee from September 2006 to June 2008.  He currently serves as Corporate Secretary and on the Finance/Compensation, Health Care, Loan Policy and Executive Committees.  Tom also serves as a member of the Board of Directors of Believers Stewardship Services, a Stewards Foundation partner in the Planned Giving Program.
Tom trusted Christ as his Savior during his second year at Parks College of Aeronautical Technology.  After graduation, he was commissioned in the United States Air Force and served a 20-year career in Transportation and Logistics command and staff positions at locations including Vietnam, Germany, Sicily and the Pentagon where he retired as Director of Transportation Programs.  During his Air Force Career, Tom received an MBA degree in Transportation and Logistics from Indiana University and a Ph.D. in Operations Management from the University of North Carolina.  After retirement, Tom entered an academic career serving as a logistics and operations management faculty member at the University of South Florida, Florida Gulf Coast University, and North Lake College (Dallas County Community College District); and Dean of the Business Schools at Fort Lewis College (Durango, Colorado) and Woodbury University (Burbank, California).  In 2013, Tom retired from a 27-year academic career, including four years as Program Director and transportation faculty member at the Air Force Institute of Technology during his military career.
Tom married Carol (Bollinger) in November 1969, during Tom's re-assignment from Vietnam to Germany. They have one grown son and three grandchildren.
Tom and Carol are in fellowship at Fellowship Bible Chapel in Fort Myers, Florida.  Prior to that, they were in fellowship at Wheatland Bible Chapel in Duncanville, Texas, the Immanuel Navajo Chapel (Immanuel Mission) in Tec Nos Pos, Arizona, Fellowship Bible Chapel in Fort Myers, Florida, Avenue 54 Bible Chapel in Los Angeles, California, Cherrydale Bible Chapel in Arlington, Virginia, Forest Grove Bible Chapel in Chapel Hill, North Carolina, and were active in Military Chapel Sunday School teaching during overseas assignments.
Also included in this edition of our Newsletter is a testimonial from an assembly with a current loan from Stewards Foundation, and a commended worker from this assembly.
Doug Rice, Executive Director | Stewards Foundation

The Detroit area is home to the largest Arabic speaking population outside of the Middle East. In 1992, the Middle Eastern Bible Fellowship was established in Detroit, Michigan by believers from Beirut, Lebanon who fled their country because of persecution for their Christian faith. This Arabic speaking assembly began with a gathering of nine believers in the basement of First Baptist Church in Hazel Park, Michigan. For nearly ten years, they gathered there growing in the Lord. During this time, The Lord directed a few brethren from the assembly to plant another Arabic speaking meeting in nearby Windsor, Canada.
With the Detroit location quickly growing in number and in need of a larger facility, the assembly then moved to Calvary Baptist Church, also in Hazel Park, Michigan. This assembly has grown to be one of the largest Arabic-speaking churches in the United States. Over one hundred brothers and sisters representing six different Arabic nations gather for the Breaking of Bread every Sunday morning. In 2012, with the help of the Stewards Foundation, the assembly bought a building previously used by Bethany Baptist Church in Clawson, Michigan.
The assembly is heavily involved in the community seeking to reach the more than 700,000 Arabic speaking residents with the Gospel of Jesus Christ. Brother Ata Mikhael who was integral in starting Middle Eastern Bible Fellowship has been active in a live Arabic Gospel program radio broadcasting; which reaches about half a million Arabic-speaking people. Half of the people who attend the Middle Eastern Bible Fellowship have been won to The Lord through the radio program. The assembly is also focusing on expanding their gospel outreach through satellite television. They have an hour and a half, live Arabic Gospel program on ABN (Aramaic Broadcasting Network). This program reaches millions of Arabic-speaking people in North America and Australia. The assembly has asked for prayer and support as the harvest is plentiful but the laborers are few!

Ata was born in Africa in 1947, to Roman Catholic and Greek Orthodox parents. He attended a Catholic school, but never read the Bible.  Upon completing his education in Beirut, Ata left Lebanon to live in France.  In 1976, he moved back to Lebanon at the beginning of the Lebanese Civil War.  Upon his return to Beirut, Ata received a Bible as a gift.  He read the first six chapters of Matthew and his entire life was changed.  The same person that gave Ata the Bible introduced him to the Brethren Assembly of Beirut.  Little by little he grew in the Word of God, and the Lord began using him to write Christian books, then later in preaching and teaching the Word.
Ata left Lebanon in 1988 because of persecution.  One of the many Christian books he wrote was titled Escape From The Coming Tribulation.  This book put him on the black list of the Syrians that had invaded Lebanon.  They accused him of being a Zionist.  Ata moved with his family from Lebanon to Lansing, Michigan.  There, with the help of an American Baptist Pastor, he started a campus ministry at Michigan State University to reach Arab and Muslim students for Christ.  This ministry lasted for almost three years.  During this same period of time, Ata started an Arabic speaking Assembly in Lansing.  He worked with Radio Bible Class to translate Our Daily Bread into Arabic, and on the translation of William MacDonald's Believers Bible Commentary into Arabic.
In 1992, the Lord called Ata to move to the Detroit area and start the Middle Eastern Bible Fellowship.  In 1994, he started another Arabic speaking church in Windsor, Canada.  In July of 2000, Ata began a radio ministry broadcasting a weekly Gospel program on WNZK 690 AM.  This program has been on the air for over 12 years reaching more than 700,000 Arabic speaking people in the Greater Detroit area, the largest Arabic population outside of the Middle East.  Eight years ago Ata started a weekly TV program, broadcast to millions of Arabic speaking people in the U.S., Canada and Mexico.
In May of 2001, Ata received an official invitation from the Iraqi Minister of Religion and Religious Affairs to be one of the guest speakers at a Christian Conference sponsored by Saddam Hussein.  In February of 2002, he received an invitation from the same official to speak in the Evangelical Church of Baghdad for two weeks.  Every evening there were thousands of people that attended the meetings with hundreds accepting Christ as their Lord and personal Savior.  Since then, Ata annually travels to the Middle East, visiting Lebanon, Iraq and Egypt.
Very soon, Lord willing, Ata plans to start an Arabic speaking church in the Dearborn area, the heart of the Muslim population in Michigan.
Today, Ata is pastoring at the Assembly in Clawson, Michigan, while continuing to help the Assembly in Windsor.  He is also a preaching evangelist, serving the Lord in various places around the world utilizing his ability to speak in three languages: Arabic, French and English.